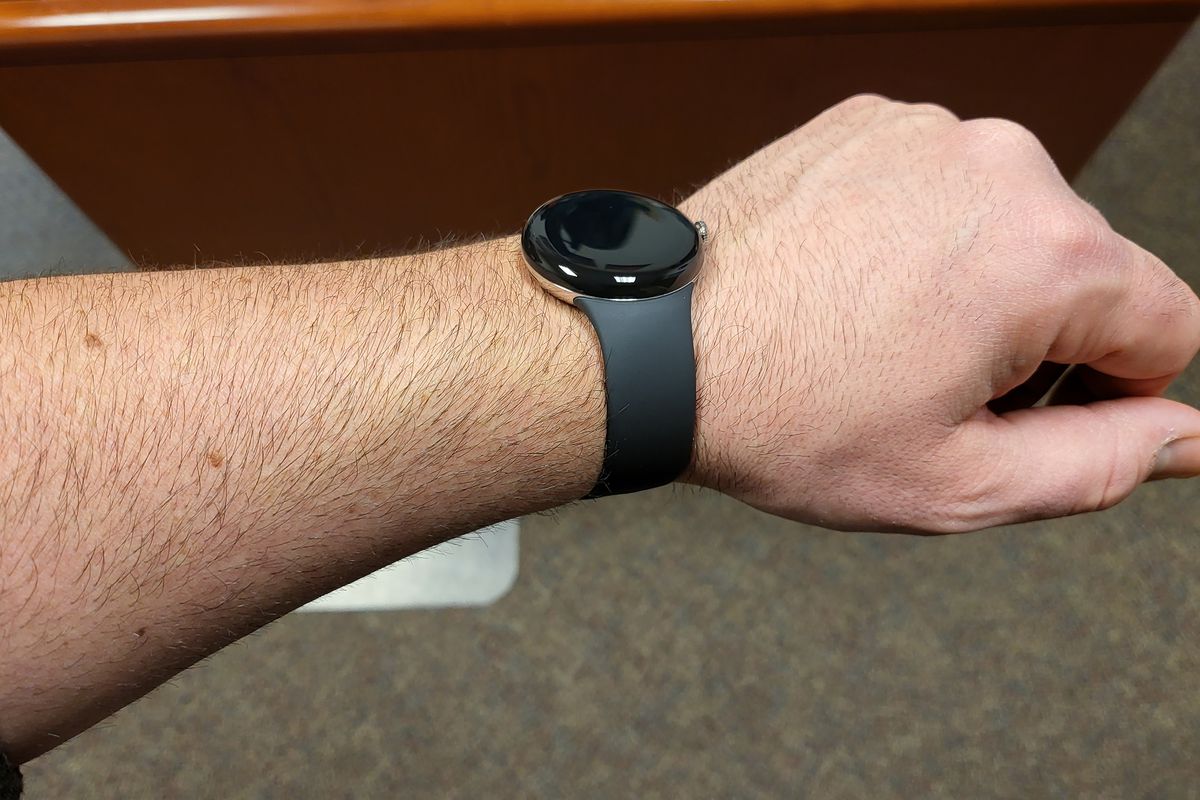 If you've been expecting to know what the Pixel Watch looks like on a hand (well wrist), you no longer need to wait. The prototype of the Pixel watch was shared by a Reddit user who claimed that the watch was found in a restaurant. The Reddit user recently revealed a picture of him wearing the smartwatch he claimed to be the rumoured Google Pixel Watch.
The Reddit user described the strap of the watch in a post and it sounds like the watch bands are similar to that of the Apple Watch sports band. The tagtech also stated how the watch is quite comfortable and is thinner than what others have claimed to be.
The first leaked render of the Pixel Watch showed the very curved display and the Pixel 6 Style interface. The name of the Pixel Watch is not announced yet but some claimed that the Pixel watch will be called the Pixel watch fit, but this is not confirmed.
However, from rendered images and rumours, the screen bezel is said to be 30mm while the entire thing weighs 36g, meaning the watch does have some similarity of the Charge bit 5 so it may make sense if the new Pixel Watch is named the Pixel Watch fit. It is said that the Pixel watch will use a proprietary connector for the Pixel watch bands, however this is also not fully confirmed.
The wearable shows a round face with a bezel-less display that seems to curve around the edges of the Pixel watch. On the right hand side of the watch you can see a single crown which may be the only physical control for the watch.
The overall design of the watch gives us a minimalistic feel and looks quite clean and simple, which is similar to the usual design of the Pixel devices.
The release date of the watch has not been confirmed, however there are a number of rumours about the release date. A leaker Jon Prosser claims the watch will be revealed at the Google I/O in may which is primarily a developed-focused event, but the watch may officially be released in October alongside the Pixel 7 and 7 pro.
As for the expected price of the watch, if compared to the Apple Watch, the price will seem to be lower. The Pixel watch would overall be lower in price compared to the Galaxy Watch 4 and the Apple watch which come at the prices of $399 and $249.
Other than these leaks and rumours, there are still more of them to come as we get closer to the release of the Pixel 7 and 7 Pro. So, we'll keep you updated on any more news that we do get on the Pixel watch.
Check out our range of amazing quality accessories to dress up your device with on the Mobile Fun site.