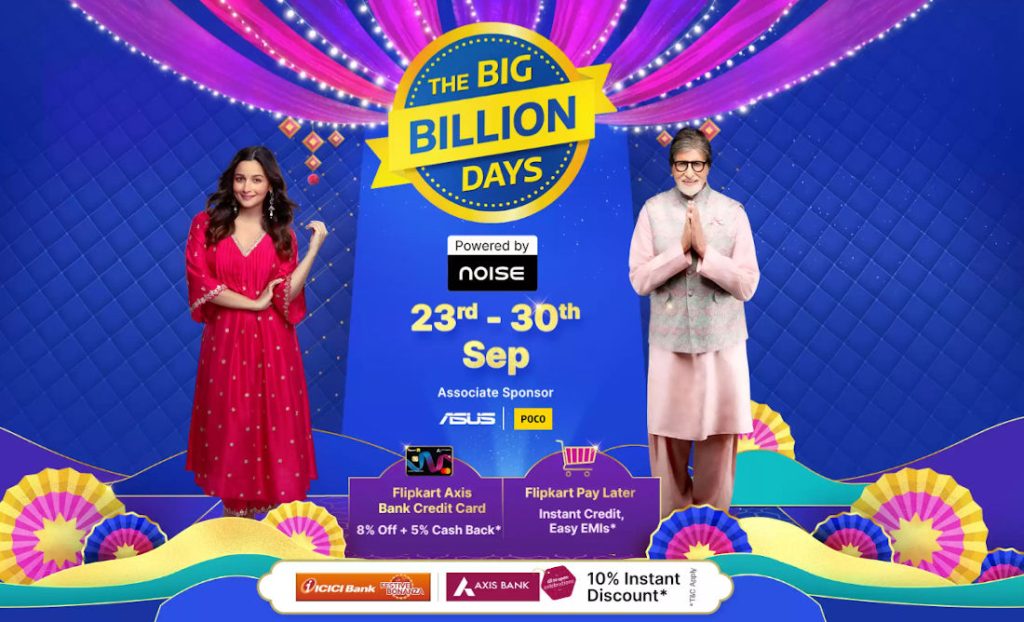 Flipkart's annual flagship event, The Big Billion Days (TBBD), is in its ninth year. During the 8-day festival, more than 1 billion customers used the platform, which drove innovation, affordability, inclusivity, value, and convenience for the whole ecosystem, said the company.
It shows robust ecommerce adoption across the country, with 60% of customers coming from Tier-2 and Tier-3 cities. Flipkart serves millions of clients in rural areas like Khonsa, Arunachal Pradesh, and Port Blair, Medinipur, Bankura, Puri, and Bhagalpur, among the top 10 Tier-3 cities. Customers, vendors, Kiranas, and artisans find value in Flipkart's fresh and innovative products.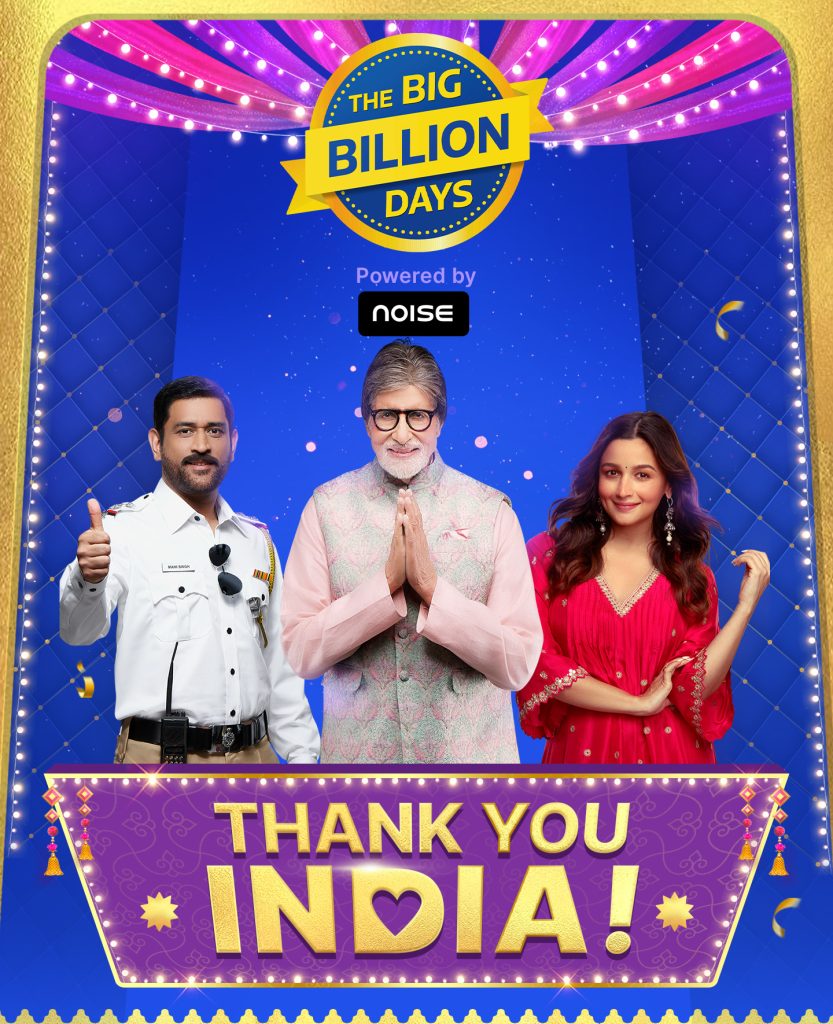 Creating value for the entire ecosystem
Sellers: Over 50% of Flipkart's vendors saw 1.5X growth. Since the last TBBD, the number of crorepati sellers has gone up by 100%. This shows how well partnering with Flipkart has worked.
Kiranas: Kirana Partners delivered millions of goods and made 10% more deliveries in the first few days of TBBD.
Samarth: Flipkart Samarth has 5x as many craftsmen, weavers, and entrepreneurs this year. Flipkart's efforts to bring marginalised communities, businesses, and entrepreneurs into the mainstream economy have paid off. Samarth artists, weavers, and entrepreneurs displayed handmade furniture and handicrafts.
Category performance
Mobiles, electronics, and large appliances saw a 70% and 30% increase in premium goods sales over the prior Big Billion Days.
Suitcases, running shoes, men's pants, and footwear were some of the top-selling products in Tier-2 and Tier-3 cities, attracting 45% more customers than last year. Every second, 3 sarees and 2 kurtis were sold. Every minute, 250 shoes, 200 kids' clothes, seven t-shirts, and four bottoms (jeans and trousers) were sold.
Students drove most of the demand for laptops, genuine wireless audio devices, and smartwatches.
Diapers, wipes, moisturisers, toothpastes, pressure cookers, gas stoves, and double bed sheets were the most purchased beauty and general merchandise items. 25% of makeup shoppers used virtual try-ons.
The number of cities shopping for food more than doubled to 1,700 this year. 70% of grocery demand came from Tier-2 and Tier-3 cities, such as Guwahati, Indore, Lucknow, Nagpur, Patna, and Vijayawada.
In TBBD 2022, furniture sales grew by 35%. 40% of buyers of mattresses, kids' tables, and kitchen carts picked affordability.
Nearly half of all mobiles sold cost Rs. 20,000 or more. 44% of premium phone buyers were from Tier-2 and Tier-3 cities.
Grooming, food and nutrition, lifestyle, and travel drove 200–300% client growth this TBBD.
Flipkart app scores high
In the lead-up to TBBD, 35 million Flipkart app downloads were made on Android and iOS, with 1 in 5 new consumers selecting a vernacular experience.
Brand Mall and Virtual Try were used by 22% and 40% of people, respectively, and the unique 3D AR viewing catalogue was seen by more than 55 million people.
Financial constructs drive affordability, convenience and inclusivity
When compared to a full credit card swipe, EMIs doubled the average order value, so buyers could buy big appliances, furniture, phones, and electronics for a lot of money.
Compared to TBBD last year, spending and credit card users on Flipkart's Axis Bank Credit Card with Instant Discount and Unlimited Cashback grew by twice as much.
Flipkart Gift Card sales increased by 80% from TBBD 21, while redemption increased by 28%.
Advance bookings for travel next year increased 140%, reflecting Indians' willingness to travel.
Bhubaneswar, Goa, and Jaipur were popular places to visit in India, while Bangkok, the Maldives, and Singapore were popular places to visit outside of India.
Shirdi and Varanasi tourism also increased. Bookings for 4- and 5-star resorts rose 350%, indicating a shift toward luxury tourism.
The Medicines section of Flipkart Health+ has been well received. Over 65% of Flipkart Health+ and Medicines on Flipkart orders came from Tier-2 and Tier-3 cities.
More than 150 million tailored WhatsApp messages were sent to Flipkart shoppers to reach Tier-2 and beyond locations. Alia Bhatt sent 10 million personalised video messages in Hindi and English, greeting users by name and giving the finest fashion and lifestyle offers. 38% of customers visited the app.
Shopsy has 5X'd with strong acceptance from Tier-2 and Tier-3 cities.
Nearly 60% of Tier-3 customers and dealers used the platform.
During TBBD, Jeeves installed 2 lakh devices in 19,000 pin codes. Jeeves offers post-purchase solutions for 40+ product categories.
Speaking on the event, Manjari Singhal, Senior Director – Customer, Growth, and Events, Flipkart, said,
As a homegrown e-commerce marketplace, we understand the aspirations of both our and sellers. We are constantly striving to uplift the entire ecosystem through our tailored offerings and innovations. This Big Billion Days has already fostered immense growth opportunities for our sellers, brands, transport and Kirana delivery partners, with the help of bespoke financial offerings accessible on the platform, better revenue-generating avenues for them, and expanded reach across the nation. In its ninth year now, The Big Billion Days has evolved into an experience that nationwide customers and sellers look forward to, and we will continue to make concerted efforts to create value for the entire ecosystem.