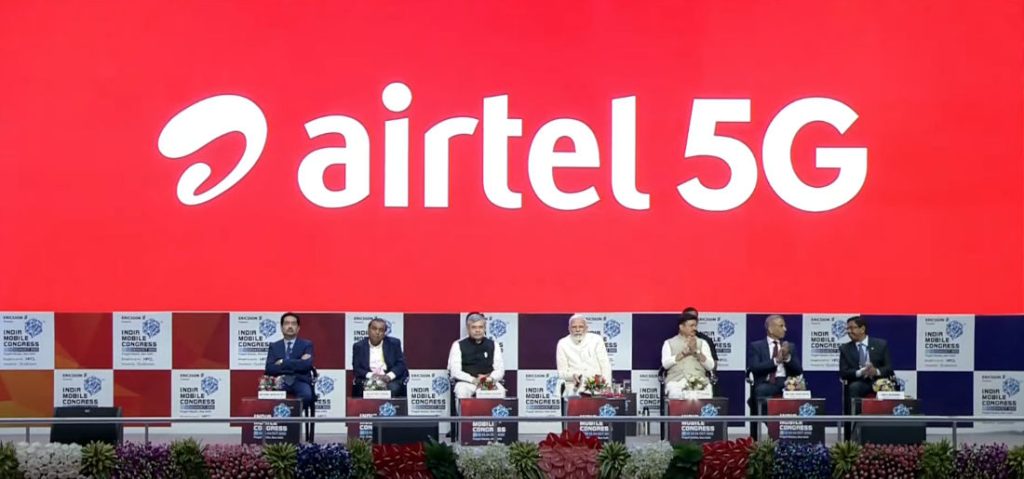 At the India Mobile Congress (IMC) 2022, Sunil Bharti Mittal, Chairman of Bharti Enterprises announced that Airtel will roll out 5G services in India in 8 cities, including Delhi, Varanasi, Bengaluru, Hyderabad, Mumbai, Chennai, and Siliguri starting today.
He added that Airtel will deploy 5G services across most cities by March 2023 and across the country by March 2024.
At the 5G auction, Airtel acquired 19867.8 MHz of 5G spectrum for Rs. 43,084 crore. The company confirmed in August that it is working with Nokia and Ericsson to deploy 5G services in India.
Delighted to have our Honourable Prime Minister, Shri Narendra Modi visit the #Airtel5G booth at #IMC2022. The future of connectivity is here. #Airtel5GAtIMC @airtelnews pic.twitter.com/D99OCxr4cp

— airtel India (@airtelindia) October 1, 2022
Airtel joins hands with Nokia for India's first 5G-enabled immersive experience at the IMC 2022
At the ongoing India Mobile Congress (IMC) 2022, Airtel also announced that it has partnered with Nokia to bring to life the cultural splendour of Kashi Vishwanath temple and the Statue of Unity through Holographic images demonstrating the benefits of ultra-fast and low latency 5G network.
Airtel said that the almost life like holograms, will bring to life the architecture and design of these iconic monuments, replicating the physical experience.
With the advent of 5G, Immersive Virtual tourism is expected to help reinvent the Travel & Tourism industry where the masses would be able to see remote places and monuments from the comfort of their homes.
Airtel said that the use cases are supported by the revolutionary bandwidth of 5G, which will pave the way for thousands of societal and industrial applications.