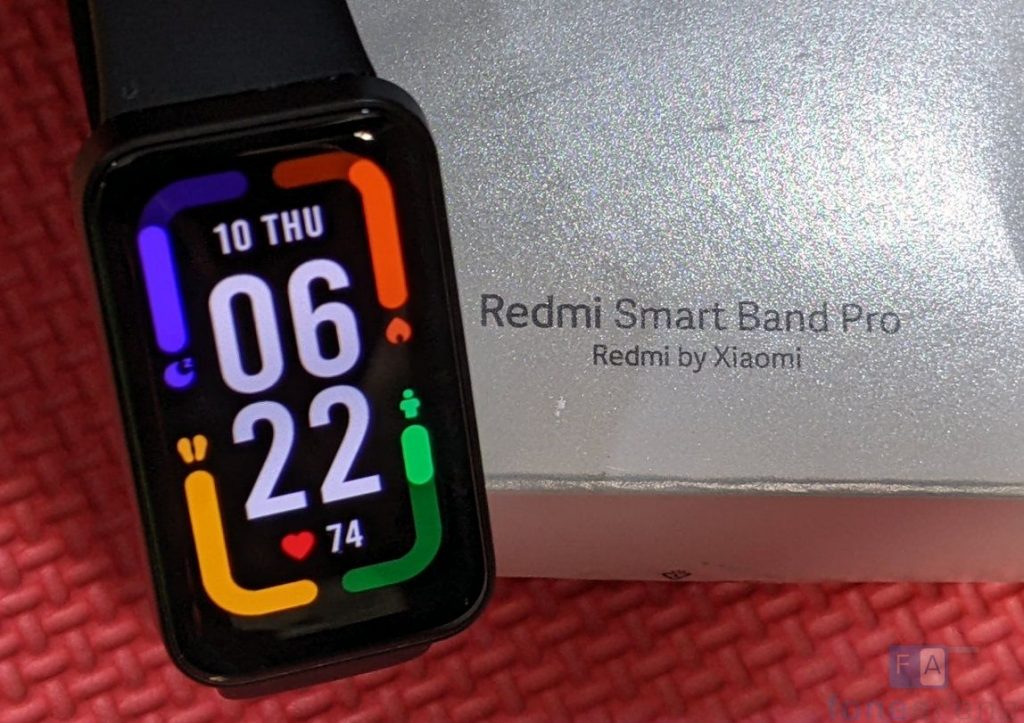 Xiaomi's Redmi brand launched the Redmi Smart Band Pro, the company's latest smart band, in India this week. Even though this costs more than the Mi Smart Band 6 that was launched in the country last year, this has a wider screen to view more contents and packs few more additional features such as an ambient light sensor, 110+ fitness modes compared to 30 in the Mi Band 6.
This is definitely a good upgrade to the first Redmi Smart Band that was launched in 2020, but is this worth the price? Let us dive into the review to find out.
Box contents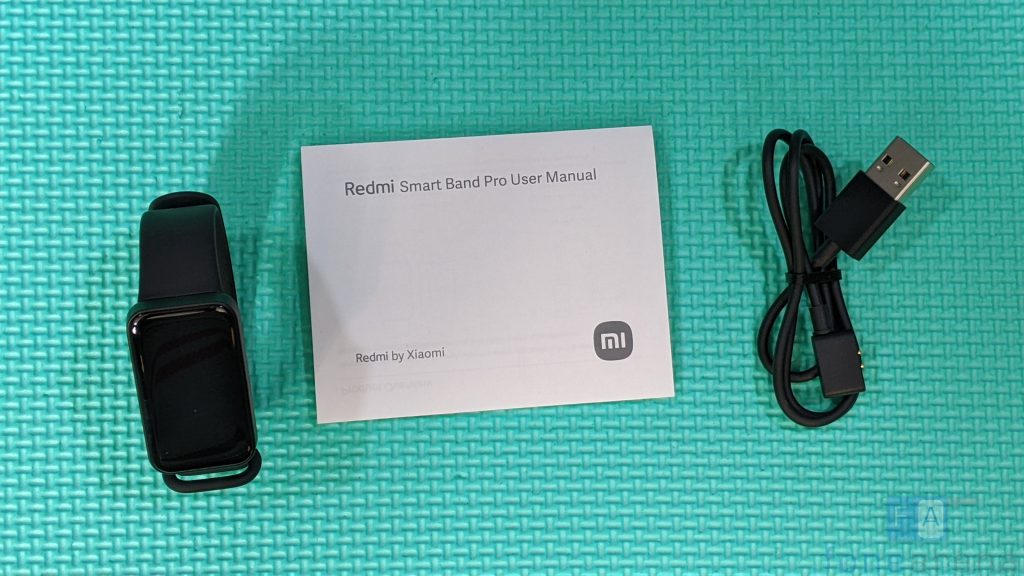 Redmi Smart Band Pro with Black silicone wristband
Magnetic charging connector
Quick start guide
Design and Build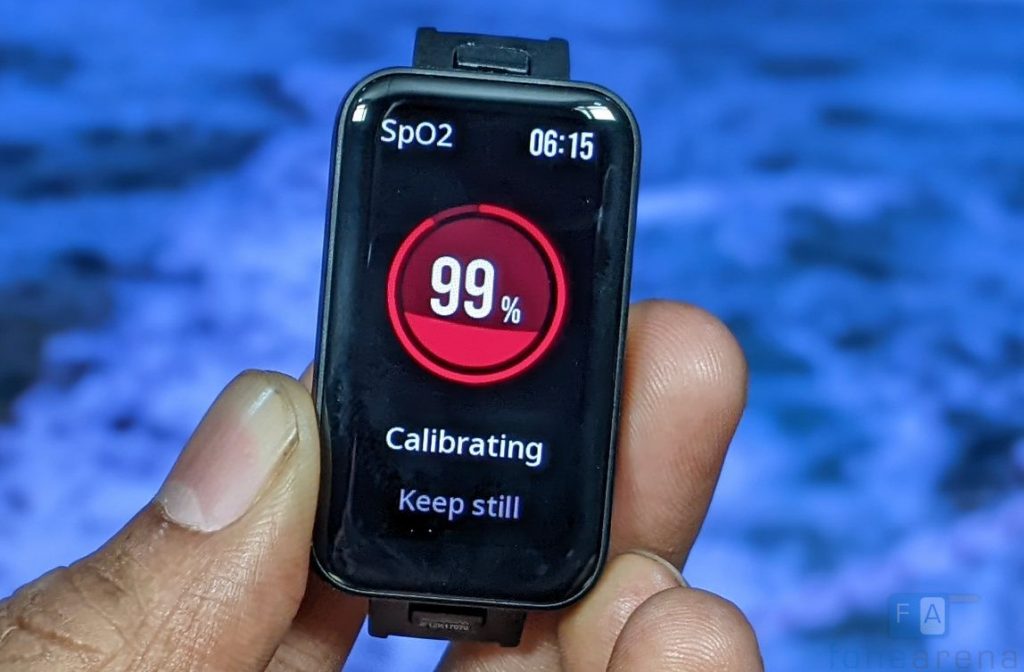 Starting with the design, the Redmi Smart Band Pro has a wide screen that makes it look like a smartwatch instead of a band, thanks to its large 1.47-inch screen. You can see bezels around the screen, so the screen-to-body ratio is 65.5%, which is high compared to the Mi Band 6. This measures 42.05 x 24.45 x 11.1 mm and weighs 14.5g (without strap) / 25.5g (with strap), making it wider and slightly heavier than the Mi Band 6.
It has a polycarbonate body, 5ATM water resistance, so you can even wear when swimming. There is 6-axis IMU sensor (Accelerometer sensor, Gyroscope sensor), Optical heart rate sensor also known as PPG heart rate sensor and also comes with a SpO₂ sensor. It uses Bluetooth 5.0 LE to connect to Android and iOS devices, same as the predecessor.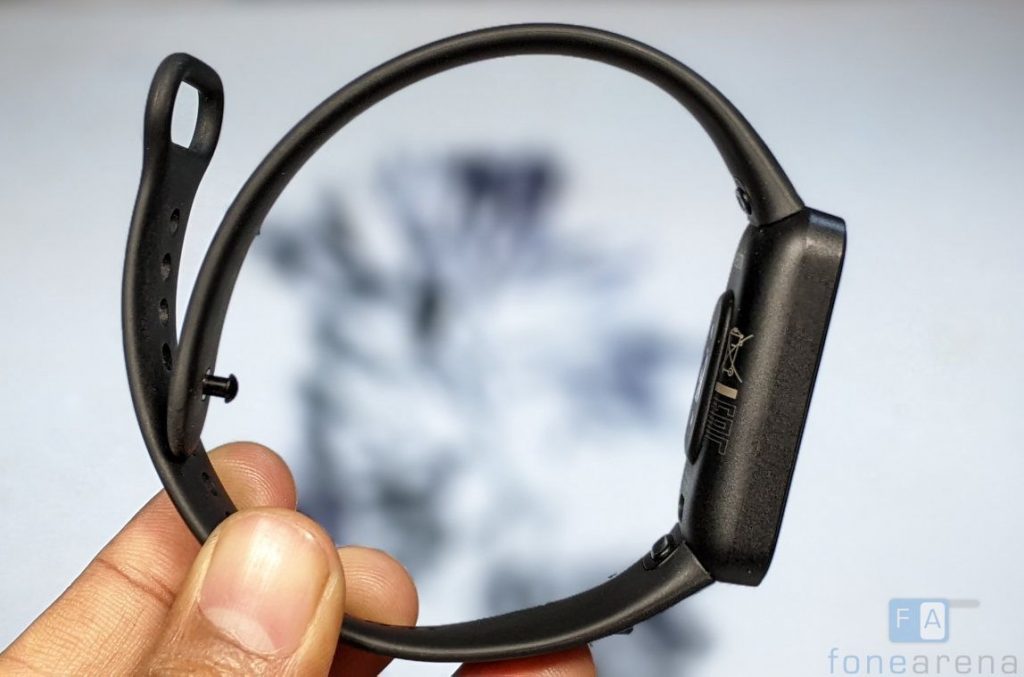 Coming to the strap, it is made of skin-friendly thermoplastic polyurethane and the strap is adjustable from 130mm to 220mm, depending on your wrist length. It is tight, but if you do any work that involves brushing your wrist against some object, it might come out.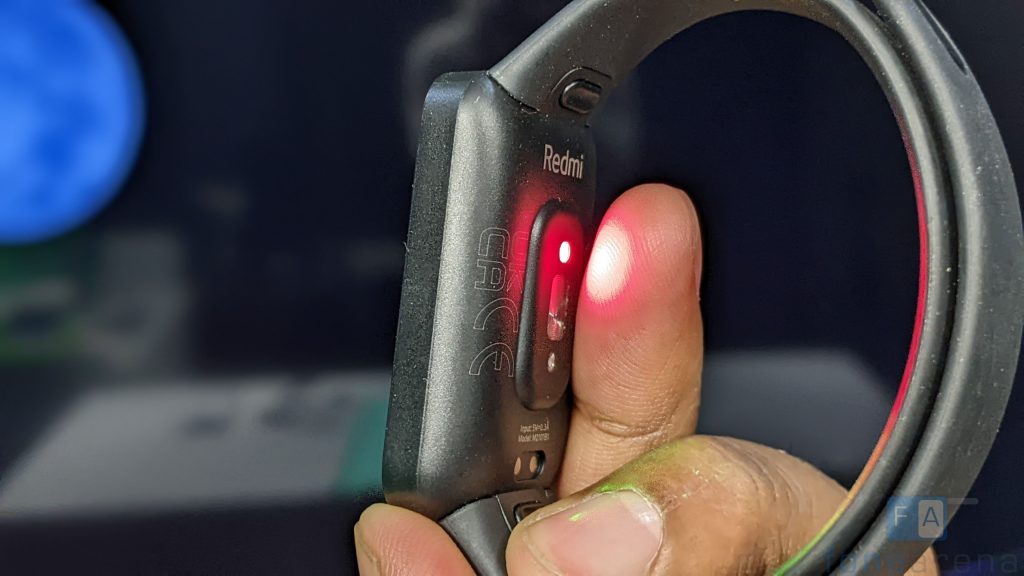 The core unit can be removed from the strap by pressing the buttons on both the ends of the strap. Wish the company sold the band in different colors. On the back, you can see the heart rate sensor that has glowing green LED lights when you are using it to measure heart rate. The SpO2 sensor glows in red colour when you measure blood oxygen saturation. You can also see the charging pins on the back. Overall, the band has a good build quality.
Display and features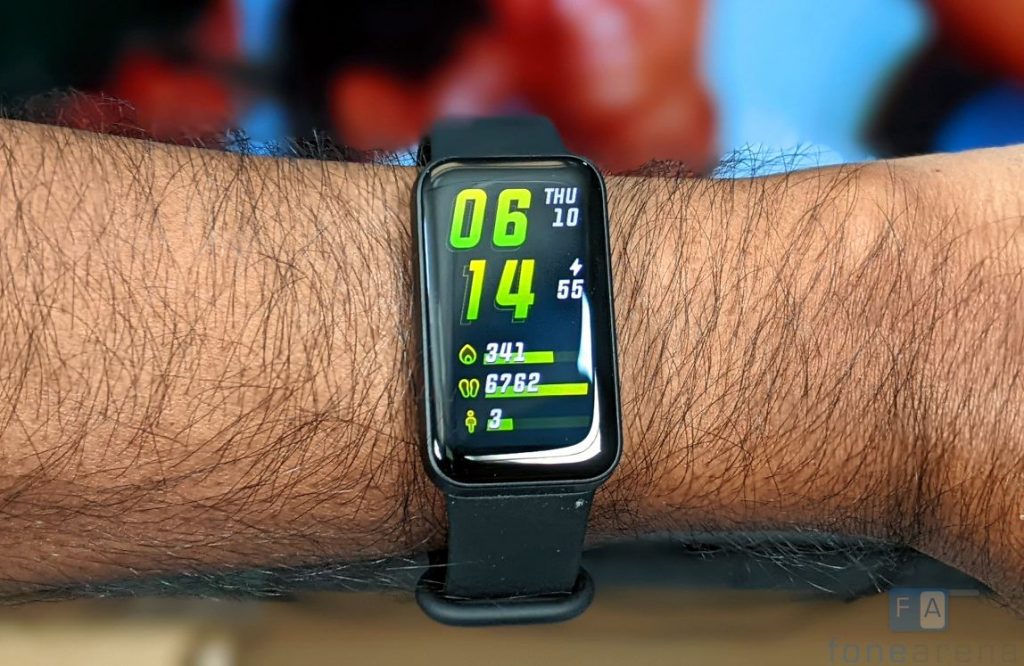 Coming to the display, the band has a large 1.47-inch (194 x 368 pixels) 282 PPI 2.5D curved AMOLED touch screen display with up to 450 nits brightness and tempered glass. Even though the Mi Band 6 has a larger 1.56-inch screen, the Redmi Band looks bigger since this has a wider screen and the bezels are slightly bigger. Similar to previous Mi Bands, you can set it to turn on when you lift your hand, and the screen turns off in a few seconds to save power. You can adjust brightness level from level 1 till level 5. Since it has an ambient light sensor, there is auto brightness adjustment that you rarely see in a smart band or a watch in the price range. Thanks to 450 nits brightness, there are no outdoor visibility issue.
It still attracts fingerprints and is not completely scratch resistant. There is no button, you need to perform all the actions with the touch screen. There is also an easy notification shade option when you swipe from the top.  You can read or clear the notification you receive from the smartphone, but you can't reply to them.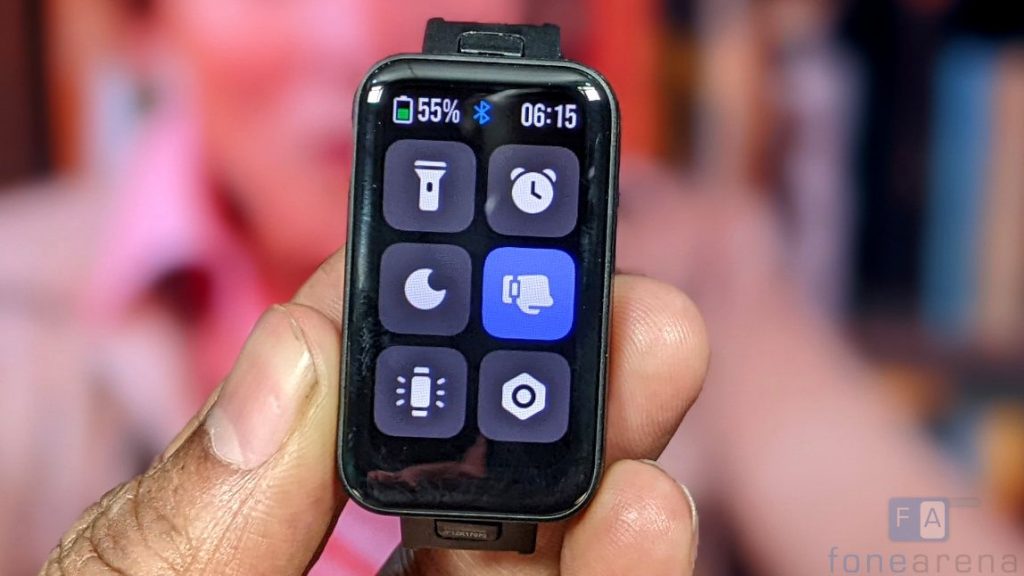 You can also access quick toggle options when you swipe from the left. This has flashlight option that brightens up the screen, option to go to alarm, DND, toggle raise to wake, keep the screen awake screen for 5 minutes and settings option which comes in handy.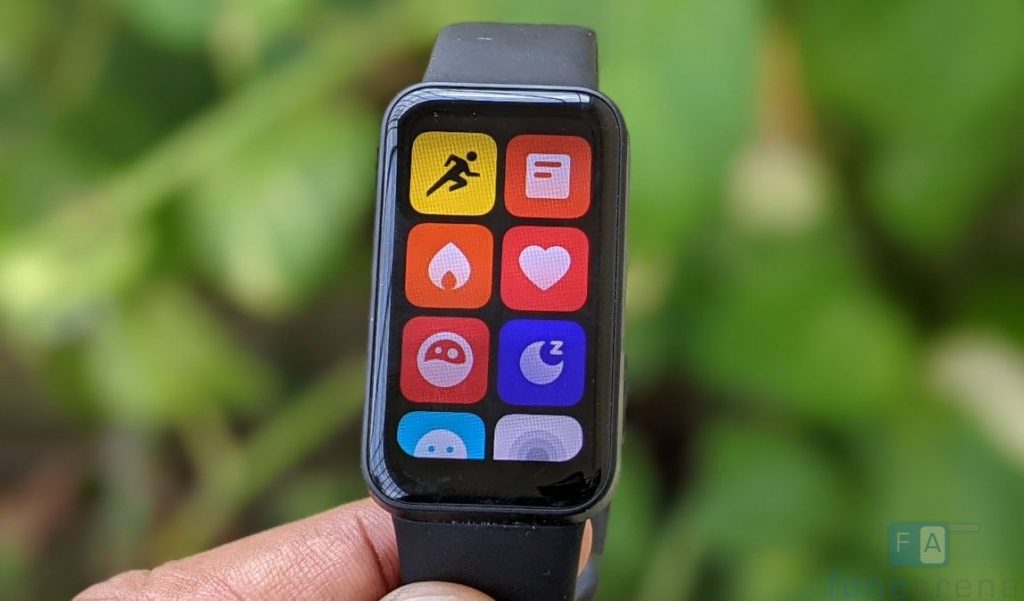 It also has music controls. You can just swipe from left or right on the touch screen to view the music control panel that lets you play, pause, skip tracks and also adjust volume when you play any music or any kind of content like videos or music when the band is connected to the phone. There is also camera control which is still in beta, so it says that it's a Labs feature. You can turn the camera controls off from the app.
Swiping from the bottom shows Workout / sport modes, activity that shows activity performed, stats that shows calories burnt, steps and standing data for the data with detailed stats. There is heart rate option, sleep data, stress detection, breathing (1 to 5 minutes with slow, moderate and fast option), Cycles (Mensural cycle tracking), Weather, Music controls, Camera control, Alarm, Stopwatch, Timer, Notifications, Find phone and Flashlight. In the settings, you find Band display (Band faces), Brightness, DND, Workout auto-detect, PIN lock, Bluetooth disconnection alert, Auto screen lock time (default or 5s to 20s), Always on display, Vibration strength, Reboot and Reset.
Software
The band uses Xiaomi Wear companion app on Android and Xiaomi Wear Lite for iOS. This has a different UI compared to Mi Fit app. It has Status, Workouts and Profile section. Status section shows the steps, calories burnt, the latest workout stats, sleep data, heart rate and standing details. Workout tab shows outdoor running, treadmill, walking and outdoor cycling options that you can start directly from the app. My Profile section shows the battery stat, option to change band faces and settings.
There are some local faces and the online options has 50+ band faces. It takes a few seconds to download a new band face. You can't set a custom image as a band face, which is a feature that is available in some smartwatches.
From the app, you can choose which widgets to show up on the band when you swipe. You can also choose which app should show notifications. There is also an option to enable incoming call notification with or without contact information details.
Fitness and sleep tracking
The Redmi Smart Band Pro has 110+ workout modes that includes 15 professional modes, automatic detection for outdoor running, outdoor walking and treadmill. Except route map for outdoor workouts, you get all the details such as distance, calories burnt, steps, average speed, cadence, average heart rate and heart rate zones right from the smartwatch.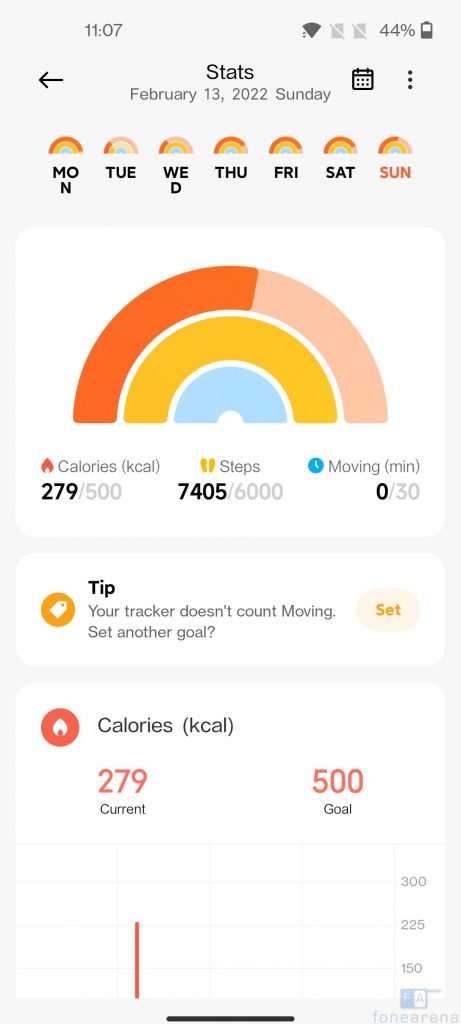 Steps tracking is good compared to Mi Band 6. Even without built-in GPS, tracking using phone's GPS is good. It hardly takes a couple of seconds to get the GPS from the phone for outdoor workouts, and you can directly launch the workout from the band, but the heart rate tracking during workout takes a lot of time. If you start your workout without the heart rate, it doesn't give you calories burnt during the workout, and if it's zero, it doesn't register the workout at the end. Once it tracks the heart rate, which worked for me by wearing the band on the other side of the wrist where my nerves are, tracking my runs were accurate compared to Strava app on the phone, and Samsung Galaxy Watch 4 with GPS. Since this doesn't have a button, you need to press and hold the screen to pause or stop the workout.
You can share the workout data as an image. Xiaomi Wear app had Strava support when I was reviewing the Redmi Watch and the Mi Watch Revolve Active, but there was no connected apps option in the Settings. For iOS, it supports Apple Health sync, says the company. I found a workaround for this by signing in to the Zepp app using my Mi Account and adding the Strava account there, so without doing anything, my workouts are shared with Strava when I finish them on the Xiaomi Wear app.
Sleep tracking is a mixed bag for me. It doesn't get tracked for a few days, and sometimes it records only for 2 hours. I tried changing it from right to left wrist, and wore it tightly, as instruction, but nothing worked for me. It shows light, deep and REM sleep as well as awake time, but it doesn't have an option to track naps like the Mi Band 5 or Mi Band 6. The band also has SpO2 monitoring during sleep, but the company says that it will drain the battery quickly. Hope Redmi updates the band to fix the sleep tracking issue.
Heart rate and SpO2 monitoring
The band uses LED lights and photo-diodes to illuminate the blood vessel for a while and monitors the heart rate via the change of green light absorbed. You can't say this is 100% accurate, but heart rate recordings — both resting and active, are almost accurate compared to Blood oximeter device. It shows a graph for heart rate throughout the day in the band itself, and you can set continuous monitoring every 1 min to 30min . There is also Vo2 Max data. The smart band also comes with SpO2 or blood oxygen monitoring, which the company says should not be used for medical purposes. When compared to oximeter that showed 97%, this is almost accurate. Wish the company had offered 24×7 SpO2 monitoring, which I like in the HUAWEI Band 6. The app also has stress level monitoring throughout the day.
The company says that it uses LifeQ Health Algorithm, a leading provider in biometric & health information system for wearables, for tracking health vitals accurately and continuously.
Battery life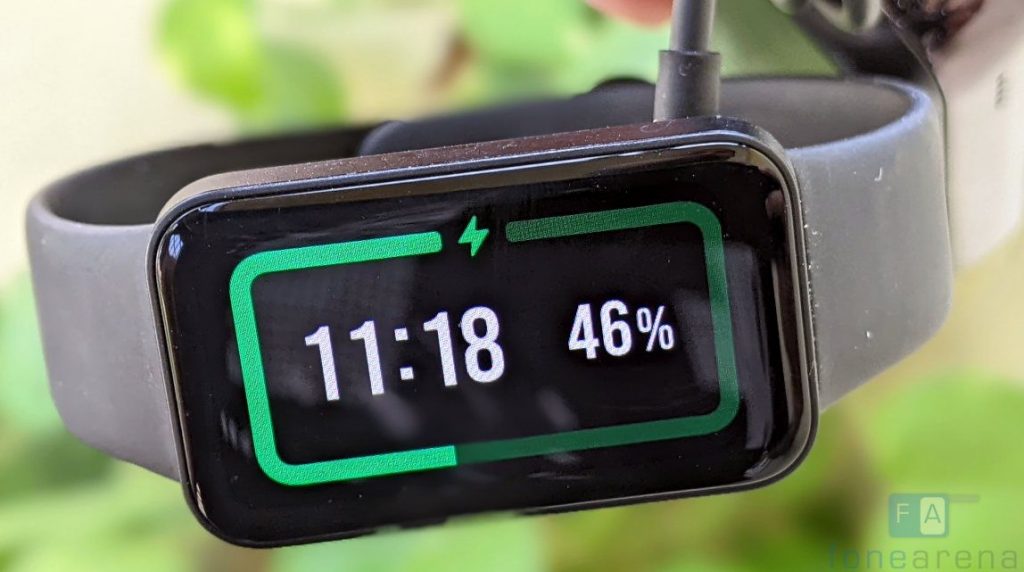 It has a 200mAh battery, and the company promises 14 days of battery life. I have been using it for over a week now, and I have 46% charge left, after charging it to 100% last week.  I have only enabled call and limited app notifications and has enabled continuous heart rate monitoring every 10 minutes. Based on my use, it will last for over 2 weeks. Battery life might vary depending on frequent use of the display with increased brightness, Always on display, use of heart rate monitor 24 x 7, and all the notifications turned on.
The band uses magnetic charging, compared to a built-in charging port in the first Redmi Band. Instead of boring charging animation, the band now shows the charging percentage and time when it is charging.  The company recommends 5V-1A input, so you can even connect it to a PC or a laptop or use power bank in low-power mode. It takes about 1 and half hours to charge the band fully. Since the battery last for almost 2 weeks, long charging time doesn't matter.
Conclusion
The Redmi Smart Band Pro is a decent smart band at a price of Rs. 3999. It has a large AMOLED screen, is packed with several workout modes, has 5ATM water resistance, offers a good battery life and also includes an ambient light sensor for auto brightness adjustment. The Xiaomi Wear app is getting better, but I find the Mi Fit app for Mi Band is still better in terms of features. Hope the company fixes the sleep tracking issue, and also brings back the strava app support in the Xiaomi Wear app.
The Redmi Smart Band Pro is priced at Rs. 3999, but it will be available for Rs. 3499 for a limited period from Amazon.in, Mi.com, Mi Home stores and offline stores starting from February 14th at 12 noon.
Alternatives
At a cheaper price tag, the Mi Band 6 is a good option, if you need better sleep data, and interchangable straps in different coloros . You can also check out the HONOR Band 6 and the HUAWEI Band 6 that has an app that has more features and fast charging. There are other smartwatches and smart bands in the price range, but the reliability is a question.
Pros
Large, Bright OLED color display
110+ workout modes with 3 automatic fitness tracking modes
Water resistant (5ATM)
Good battery life, Magnetic charging
Cons
Costly compared to Mi Band 6
Sleep tracking doesn't work properly
No all-day SpO2 monitoring